Facts about Michael Jordan? Are you kidding me? There are so many. So many facts that made him the best ever. Wouldn't you agree that Michael Jordan deserves what he has achieved? He is so right when he says that young players, today, especially in the NBA, are given something they haven't earned.
It's a bad system but it's the reality.
The one and only Air Jordan, transformed the game that we now play. He was the most competitive and determined player to ever play in the NBA – no doubt about that. No one comes even close. He is the perfect example of a basketball player who is all HEART.
There is nothing else to it. I think it was Grant Hill who said that, if there is a picture in the dictionary for the word"basketball" that has to be Jordan.
We all know he is modest and everything. When he is asked about do you consider yourself the greatest player, he goes, no!
When asked why, he goes.. well, there are other players before me that really have played the game well, and I just don't know how I'd handle them.
If not you Michael, then who? It's not for nothing that Kobe Bryant and LeBron James are trying to get close to you. People ask themselves if they're gonna be the next MJ.
I think, there never was and never will be another MJ.
Maybe some of these facts about Michael Jordan you already know but I bet there will be something that you'll learn if you take a look here..
1.) Michael Jordan was 3rd pick in 1984 NBA draft.
2.) Jordan used to wear number 23 because back in high school he was 45. And also his brother was 45 but before him. So he decided to half that number which is 22 and a half and he went for 23.
3.) His favourite numbers for a jersey are 11, 3 and 13. If he had to pick one that would be 3.
4.) Although it's hard to believe now, Michael Jordan was unlikely champion. He didn't make the team in high school until he was junior year.
He says that no one in his family expected him to be what he is today and that's what has fueled him to win. He felt that the people that know him the most think he is least likely to succeed and that's why his inner drive was to prove them wrong.
5.) He likes control with his involvement (his brand name – business). It's not as if he says, here's my name, use it. Jordan runs his corporate empire from his office in Chicago. But he only goes there about 2 days a week.

Good portion of his time is spent playing golf because, as he says, he's really really getting addicted to it. Sometimes he plays from sunrise to sunset.
6.) His father, James Jordan, his first basketball trainer, was robbed and murdered in 1993 when Jordan was 33.
7.) His parents are his biggest role models of his life because they've been hard working, generous and disciplined.
8.) Michael thinks that he is the most competitive player to ever play the game – (and I think he is right).
9.) His greatest shot according to him is in 1982 when he played in North Carolina against Georgetown. That shot, as he says, gave him the confidence to play to a different level. His parents said that after that shot he went from Mike Jordan to Michael Jordan.
10.) He was practicing a lot when he was shooting the ball, counting 5..4..3..2..1.
11.) He has 2 boys and a girl. Jeffrey Michael and Marcus James and his daughter Jasmine.
12.) In 1996 he was chosen among the 50 greatest players to ever play the game. God, he is the first one baby. He has also been chosen as one of the most intriguing people of the century in 1997 and one of the 50 most beautiful people in the world.
13.) In 1994 he retired in order to start playing minor-league baseball.
14.) Jordan scored 63 points (his personal record) against the Boston Celtics in 1986.
15.) He was born in Brooklyn, New York and he is the fourth of five children.
16.) His Olympic jersey number at Los Angeles and Barcelona was 9.
See? There's gotta be one among these 16 facts about Michael Jordan that you didn't know:)
You've heard of course the impact he had on the basketball shoe industry. Here's some background on that..
The Michael Jordan sneakers, also known as "Air Jordans" or "MJs", believe it or not, were first released in 1984. In 1985 they were considered a real breakthrough in the design of shoes and pretty much changed the way that people look at basketball shoes.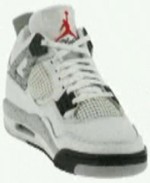 Early on, when they were catching their pace of publicity, the NBA didn't allow Michel Jordan to wear the shoes because of the black and red color which violated their terms. Despite that, every now and than, Michael was wearing them and each time he was fined $5000 for that.
The first pair of shoes were made out of plastic while the later pairs were made of leather.
It didn't really start well for Michael and the Nike company. In 1984 they were selling them dirt cheap, for as low as $20. The second generation, Air Jordan II, however were looking more professional and more successful, due to the high quality leather. Later on, Spike Lee helped Michael a lot in the ad known as "Mars and Mike".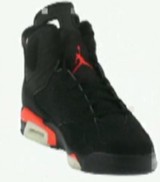 This idea, was put from non other than Michael Jordan himself. He really wanted to position himself as more than just a regular basketball player. He wanted to be a brand. Brand for the people (the fans) who were inspired by the way he plays the game. It's common for NBA players to become businessmen after retiring. Magic Johnson also comes to mind.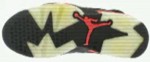 It didn't stop at the shoes for Michael. His clothing line is getting bigger and wider and they fit very nicely with a pair of nice Michael Jordan sneakers.
Jordan has mentioned in many interviews, that he really likes to have his hands on what is associated with his name. He likes to have control over what is being released and to feel the product first.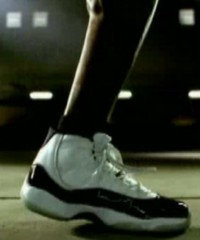 Fans today, even hard-core fans, have a hard time choosing the right shoe. A lot of times they purchase them in bulk. Right now there are more than 20 shoes out there, available from the retro line to today's most modern design.
Return from Facts About Michael Jordan to Best Basketball Tips