The 2010 and future WNBA Salary Scale which is what this posting is all about might actually surprise a few basketball heads out there with its average as well as ascending wage for these wondrous professional players.
What started out as a Yeoman's wage during the first couple of seasons for the WNBA now is really a respectable salary and one that every female player in the league deserves as well.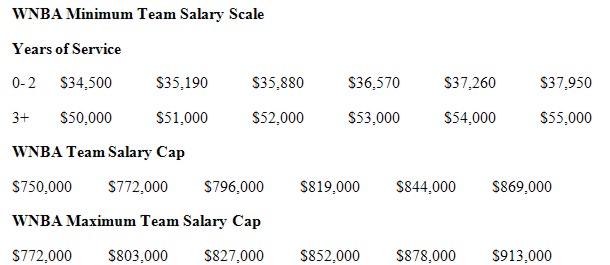 As the above standards dictate, it is continued service to the league that is most-rewarded for these professional athletes of the WNBA.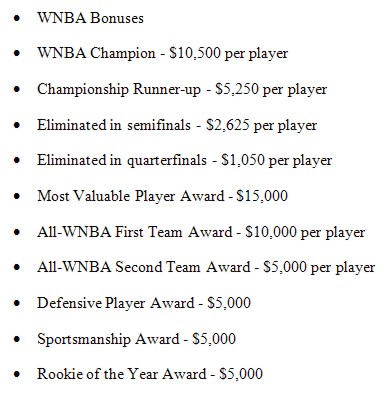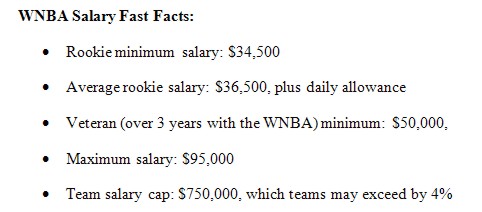 As you can decipher it is seniority and excellent play as well as a team-orientated philosophy that the WNBA has bet the house on for obtaining and retaining these star athletes. The bonus structure for the WNBA player salaries gets very interesting once you get past the standard salary caps and the individual players contracts.
Rookie Minimum Salary: $34,500
We decided to highlight this starting rookie minimum salary to prove a very good point. If not for the WNBA these female basketball players, who may or may not have been dead-set on a career of choice outside of collegiate basketball, would have to hit the streets and look for work just like the rest of us.

That would be a major shame and a letdown of Titanic proportions for these highly athletic and entertaining female athletes who want nothing more than to play the game that they love and be rightfully compensated for those gifts.

Highest Paid Player Salaries
Please have a look at a listing of some of the highest paid player salaries in the history of the WNBA. We think you will see that there is a definite interest in these players by their at times very-lucrative player salaries and endorsements.Here's a look at some of the top paydays of the most recognizable WNBA players.
Marion Jones – $35,000 Lisa Leslie – $91,000Candace Parker – $3 millionSheryl Swoopes – $99,500
What Other Visitors Have Said
Click below to see contributions from other visitors to this page…
Candace Parker's Salary Isn't $3 million  Not rated yet
Candace Parker does not make $3 million dollars as a player in the WNBA. That would be against the highest possible salary of $101,000 per year. She actually …
their salaries  Not rated yet
its bull these ladies deserve a whole lot more at making half a mill a year rookie salary max 10 million these ladies at times play better than the men …
Wasteful player..candace parker  Not rated yet
Candace parker is way over rated with constant injuries, 4 yrs in league an only played legitimate 1yr. What a waste….she need some serious strenght …