Coaching in sports is a very rewarding experience although it's filled with trials and errors, mistakes, and frustration.
Many players find a career in coaching basketball long after their playing days are over. Some of these former players make much better coaches than they did players, because while their physical talent might have lacked, their knowledge and smarts for basketball never faded.
So you want to become a basketball career coach?
You're not alone. Coaching the game that you love with players who generally want to learn and improve is a very rewarding experience. Winning is very rewarding. However, you must be prepared to endure coaching struggles, losing, and difficult personalities.
A good basketball coach should possess most, if not all, of the following traits:
• Discipline
• Communication Skills
• Patience
• Strong Work Ethic
• Basketball Knowledge
• Ability to earn trust
• Game Management
Basketball career coaches start from the bottom and work their way up.
A coach must start somewhere. Often this means earning an assistant coaching job at your former high school or college. The reason a lot of coaches' start at their former alma-mater is because they have connections and the coaches know them better than other strangers applying for the job.

Your first basketball coaching position in your career could very well end up at the middle school or high school freshman level. The main point is to remain patient and to never get down.
At this level, the players are still adapting and learning the fundamentals of the game. Make that your first priority. Also at this level, while the competition and purpose of winning is becoming stronger, allow friendly development and encouragement. Try to allocate playing time more even for all the players, because in a year or two many of less talented players may see little to no playing time.
A big stepping stone is coaching junior-varsity or varsity at the high school level. Depending on the school's enrollment and fellow school's in the conference, you may see some very solid competition.
As a junior-varsity coach your primary responsibility is to implement the offense and defensive mindset and philosophy of the varsity coach because you are essentially preparing your players for the highest level of basketball competition in high school.
Often the JV and varsity squads practice together, so the varsity coach expects a lot out of the JV team because they prepare his or her team for weekly competition. Push your JV team hard in practice, demand a lot out of them, and prepare them for the next level through competition.

If you are fortunate enough to inherit the head coaching job at a high school within your first five years, do not take it for granted. This is a great opportunity for you to expand your career.
The head coach at a high school receives a lot of pressure from the athletic director to win and from the parents to see their child play and succeed. You must handle criticism and handle fair discretion. Stick to the philosophy you understand and believe in, gain your team's trust, and the win's should follow.
Some successful high school coaches earn an assistant coaching job at the college level, while others skip high school coaching and automatically apply for an assistant position at a college. This is a great opportunity as you will likely learn from a head coach who has spent years coaching the game.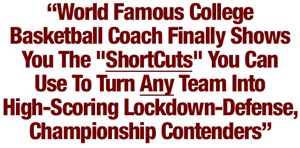 But you must remain patient. On average, it takes a decade or two before a well-known college basketball assistant earns his or her first head coaching job in college. Once the opportunity presents itself, you will likely start out at a very small school with a struggling basketball program (they didn't fire the old coach for no reason after all), so stay patient and positive.
Recruiting in college is such an important aspect of the game, especially if the program you inherited struggles. Finding and convincing new players with loads of talent to come play for your rebuilding program is never easy but this is where your communication and people skills really shine or discourage a potential athlete.
Some coaches strive to someday coach in the NBA, while others prefer to stay in college where they can recruit and have more control over the program. Whatever your path, believe in yourself and stay positive. A solid coaching career in basketball awaits you.
Return from Basketball Coach Career to Basketball Coaches