Basketball conditioning is a MUST for every serious team and every great player. We all know that teams who are slower tend to lose more and the reason is self-explanatory.
It's really crucial that you can last longer than your opponent because it's in those key moments when your real endurance and stamina are put to the test.
You have to prove what you're made of. There is always some area to be improved and you shouldn't neglect anything. Yes, it's true that having the WILL and the motivation to win the game will give you even more energy but if your brain and arms and legs coordination is not trained to the full extent and you lose your breath when you run like crazy, it's all for nothing.
And if you're conditioned it'll not only help your team to win and contribute even more, you will only reduce the chances for injury but you'll be more disciplined player.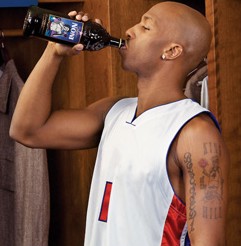 And you sure know that there is not a coach on earth who doesn't like a disciplined player. Someone that he can count on. Not to mention the fact that conditioned players can handle stress and pressure better than the others.
All the great players understand the fact that they have to commit to constant and never ending improvement. They are all striving to get better. And you should too.
Do you have a weight problem? Solve that problem as fast as possible. Lose that unwanted weight and more importantly, keep it off.
Conditioning Drills for Basketball
Click here for some Conditioning Workouts
Click here for some Conditioning Drills
Click here for 6 ways to lose weight
Click here for some Strength Training Exercises
Do You Know Any Conditioning Drills?
Ever done or heard of any conditioning drills? If you know any, I'd love to hear from you so that everybody who's visiting this website can benefit from your knowledge.