by Rob Buss
(Chicago)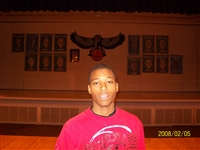 De'Andre Mullin
De'Andre Mullin
Age:18
Height:5'11/6'0
Personality:laid back
Class of:2011
Weight:160
Position:combo guard
High School: Thornridge
AAU Team: Lituanica
De'Andre Mullin is a solid ball handler and has great defense and a nice perimeter jump shot. He can really compete at the college level. His areas for improvement is his strength he isn't the strongest guard but can create with his speed and athleticism, he also has to work on his decision making.
Join in and write your own page! It's easy to do. How?
Simply click here to return to player profile.