by D'Marco
(Whitman)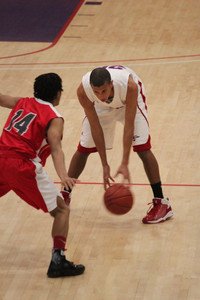 i want to get recruited but i don't know how to get noticed. i am 6'1″ and a freshman. i have a 6'5″ wingspan and play and athletic game. i like to play fast but i am ok with playing slow and moving the ball if needed. i am a good shooter and averaged 2 three point goals a game. i play varsity this year as a freshman and work hard everyday to get better. my grades are fine (A's and B's) but i am working to get better. my biggest thing i need to improve on is on ball defense and handling pressure.
Join in and write your own page! It's easy to do. How?
Simply click here to return to player profile.