by Latonya Brown
(Prairieville LA, United States)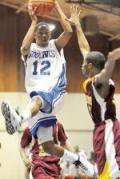 I Fly High….
My Dream…..
My name is Leonard Paul Hilliard. I am from a little town called Carville La. I first held a ball I was four years old and from there I never put it down. I started playing basketball in Junior High where I also played in Junior Varsity games.
In high school I was MVP and ALL State Player. I played in AAU where I received a championship ring. I received a full scholarship to Southwest Mississippi Community College in Summit MS where I played a year.
I was recruited by Todd Foster at Baton Rouge Community College, it was the first year the school had a basketball team. Recently I attended the NBA D league tryouts and was given a contract. I wasn't picked in the draft and I truly believe it was because at the time I had no video to send to the teams that were interested. Although I wasn't picked I have not and will not give up on my dream.
I play ball at the local YMCA for a team. I work out every day and I continue to strengthen my basketball skills.
Basketball has taught me so much, it has made my attitude towards life and others better and it has also made me continue to be determined. I will not be another statistic, I want to play make my dream come true.
Join in and write your own page! It's easy to do. How?
Simply click here to return to player profile.