Basketball is definitely a phenomenon. It has reached many countries including Yugoslavia.
Yugoslavia is fond of playing basketball and joining Olympics as well. Here is a brief background of the country, Yugoslavia was the idea for a single state for all South Slavic Intelligentsia and emerged in late 17th and gained prominence in the 19th century Illyrian Movement.
Enough with the background of Yugoslavia let us now proceed to the basketball's famous Yugoslavian players. Who are they? Why are they famous?
Žarko Paspalj
First on the line which is one of the famous Yugoslavian players is Žarko he was born on March 27, 1996 a retired basketball player and the current vice president of the Serbian Olympic Committee. He was one of the Yugoslavian who was able to enter NBA (San Antonio Spurs).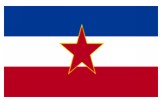 He also played for Budućnost, Partizan, Olympiacos, Panathinaikos, Panionios BC, Paris Racing, Aris and Vitrus. He became famous for he was an automatic choice for the Yugoslac National team which will represent the country for two Olympics the World Championship and the European Championship.
Here are some of his achievements
1986/87 Yugoslav League champion with KK Partizan
1992/93 Greek League champion with Olympiacos
1993/94 Greek League champion with Olympiacos
1993/94 Greek National Cup winner with Olympiacos
1996/97 French League champion with PSG Racing Basket
1997/98 Greek National Cup winner with Aris Thessaloniki
Milos Babic
Milos is considered one of the famous Yugoslavian players because he was able to play in NBA for Cleveland Cavaliers and Miami Heat. Standing 7 feet tall he played as a center.
He was drafted in the 1990 NBA Draft by the team Phoenix Suns and on that same day the franchise traded him to the Cleveland Cavaliers in exchange for Stefano Rusoni and Italian national. During his college years he was able to play for 3 seasons (1987-1990) for the Tennesse Technological University and there he showed his skills in basketball.
Marko Jaric
He is a one of the famous Yugoslavian players of basketball because of his achievements, because his father is a known Yugoslavian basketball player before and because he is the husband of a famous Brazilian model, Adriana Lima. He married Adriana on year 2008 of June 12 they were engaged after Jaric decided to propose to Adriana on her 27th birthday.
What Other Visitors Have Said
Click below to see contributions from other visitors to this page…