Lebron James took after his childhood idol, Michael Jordan, when he came into the NBA and signed a huge shoe deal with Nike. The shoe deal broke records and officially made Lebron his future generations of his family set.
For every professionalathlete, landing a shoe deal is something to dream for. Only the best and biggest stars in the league earn shoe contracts. Even more amazing, few rookieseven get the opportunity, much less a record breaking deal like Lebron's.
Certainly, when Lebron James first came into the league the expectations were out of this world and the pressure intense. But at just 19 years of age, Lebron proved he could shoulder a lot of weight, instantly becoming a force in the league and not letting down Nike's major investment.

Lebron James and Nike commercials you ask?
Oh, yea, there's been a few of them to say the least.
Here's a quick run down of some of the best Lebron James Nike commercials: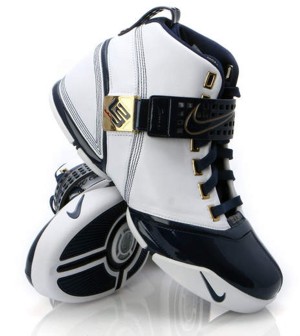 "Chalk"
The classic black and white commercial which was beautifully shot, features Lebron moments before the tip-off of what could have been any game.
Lebron has made it a trademark to walk over to the press box in the middle of the court, and dab on some chalk to help add traction to his hands. The ritual ends with Lebron tossing some of the chalk into the air and extending his arms fully in each direction.
The crowd loves it and waits for it every game.
The ritual is fun to watchand beautifully captured in this commercial.
"Lebron by the Pool"
"Lebron by the Pool" is easily the funniest Lebron James Nike commercial. The spot features Lebron in 3-D. Well not 3-D, but three Lebron's I should say. Lebron is disguised as himself, as an old-school afro wearing lover-boy, and as a little boy.
The commercial is humorous because of the exchange of dialogue and Lebron's way he can pull off all three characters, each with their own distinct personality. My favorite Lebron is the afro-wearing dude. He's hilarious and thinks he's so cool. It's funny to watch and I recommended everyone see it at least once.
"Witness"
One of the most popular ad campaigns from last season was the "Witness" campaign for Lebron James. Nike found such a suitable one-liner for Lebron. King James was just coming into his own last season and Nike found the perfect timing for the quote.
Everybody was starting to witness Lebron James and his special talent, and if you weren't? Well, now was the time to do so. The commercial spots were mostly filled with highlights from his games, but they were outstanding nonetheless.
"Going to Church"
The late and great Bernie Mac offered his unique voice and comedic style on this ad before he passed last year. The commercial features Mac serving as a pastor, addressing his church of basketball. In the choir, a lot of famous men's and women's basketball players can be found. In the church congregation, a lot of basketball fans and a few famous appearances are caught with a quick eye.
My favorite part about the commercial is running my eye through the thick crowd and trying to locate familiar basketball stars or people.
What's your favorite Lebron James Nike commercial? How about "witness" or the hysterical "Lebron at the Pool" commercials? What about the newest commercial, the "Chalk" campaign which breaks it all down in black and white?
Whatever it is, pick your favorite Lebron James Nike commercial and let us know…
Return from Lebron James Nike Commercial to LeBron James
Return from Lebron James Nike Commercial to Best Basketball Tips