Basketball players, specially the professionals and the players in the National Basketball Associaiton, are highly paid.
So, they do not only do what they love, they are also paid for it. Aside from the salary they receive from the team they are in, they also endorse different brands of shoes, energy drink, and many more.
Making basketball players in the NBA very very rich. So, what do they do with their money? Of course, they spend it. They buy luxury cars, different properties, build their own businesses, and buy their own mansions.
Many basketball players in the NBA have different houses in different places. One of these basketball players is Lebron James. Let us see how many houses he own, and take a deeper look in to them.
"King James"
Let us get to know Lebron James more before getting into his properties. LeBron Raymone James was born on the 30th day of December, 1984. He was the number one pick in the 2003 NBA Drafts.
He ended up in theCleveland Cavaliers. Since then, LeBron James, also know as King James, dominated thebasketball court. He was hailed the Rookie of the year in 2003-2004, and back to back MVP in 2008-2009 and 2009-2010. However, James recently signed a six year contract with the Miami Heat.
There's no place like home
LeBron James baught a 5.6 acres of land for $2.1 million in the year 2003. The land is located in Akron, Ohio where Lebron James is a native. Lebron James' house is a 35,400-square-foot house in Bath Township, which is 20 miles south of Cleveland.
James was playing of theCleveland Cavaliers then, so having a house near Cleveland is an advantage and Akron is special because it is where he grew up and where he started to learn and love basketball. Lebron James' house in Akron is composed of 11 bedrooms, a theater, a bowling alley, a casino and a barber shop. The masters bedroom which is located in the first floor has a two-storey walk in closet.
$50 million Miami Mansion
After signing a contract with the Miami Heat, King James wanted to have his own house in Miami. So, he baught the $50 million Miami Mansion, which he baught from an NBA coach Pat Riley, located in Coral Gables, Florida.
Lebron James' house in Miami is surrounded by 880 feet of waterfront and has a perfect view of Biscayne Bay and the Miami skyline. The 20, 088 square-foot house has 8 bedrooms, 11 bathrooms, a full kitchen, a tennis court, an elevator, bar, master suite with a full gym, a billiard and media room, a four of more car garage, and the house will not be complete without the presence of a basketball court.
Lebron James' house is also secured with Lutron lighting and a 12-camera security throughout the estate.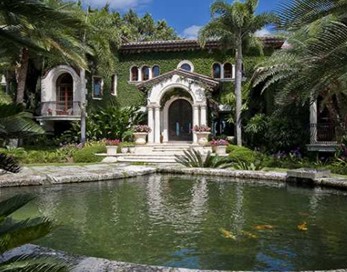 LeBron James is just one of the many NBA basketball superstars who ownmansions in different places. It is not easy to achieve what they have right now. They worked hard for it, so they deserved what they have right now.
Return from Lebron James' House to LeBron James