Yugoslavian basketball players are very visible in Olympics. In fact they often brag an award every year.
Because of their skills and passion for the game as well as for their country they often are go home victorious. One of the most popular award they had received was when Yugoslavia as a World Champion boomed.
What is FIBA World Championship?
FIBA World Championship is an international basketball competition where in the men's national teams of the member of FIBA compete with one another. The championship is held every four years.
The first tournament started in the inaugural tournament in 1950. The structure of the tournament is similar to FIFA World Cup where in both international competition palyed in the same year since 1970.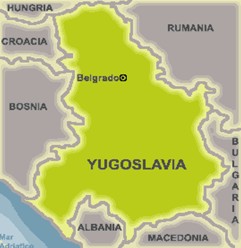 Who represents Yugoslavia in basketball tournaments?The Yugoslavian National Basketball Team represents the Kingdom and Socialist Yugoslavia. It was administrated by Košarkaški savez Jugoslavije.

The seat of the governing body was in Belgrade. After the dissolution of SFR Yugoslavia in the 1990s, the national team of FR Yugoslavia (country changed name to "Serbia and Montenegro" in 2003) was a successor of the former SFR Yugoslavian team. And, after the 2006 Montenegro Independence Referendum, FIBA considers the Serbian national basketball team the direct successor of FR Yugoslavia / Serbia and Montenegro.
Yugoslavia as a World Champion
Yugoslavia excel in basketball they had many successes in the FIBA World Championships. They had won 3 titles in 1970, 1979 and 1990. They also won titles as FR Yugoslavia in 1998 and 2002.At the World Basketball championships they had won 5 gold medals, 3 silver medals and 2 bronze medals.
One popular evident that Yugoslavia as a World Champion was showed is when they won the 1998 FIBA World Championship held in Greece and returned Victorious to Belgrade. Because of the teams victory there was a massive outdoor parties for the players. They were able to brag the championship title against the Russia with a score of 64-62 with Dejan Bodiroga as the Most Valuable Player in the tournament. Here are the summary of the Yugoslavia team in Championship games.
FIBA World Championships
As Socialist Federal Republic of Yugoslavia
• 1950 – 10th
• 1954 – 11th
• 1959 – Did not qualify
• 1963 – Runner up
• 1967 – Runner up
• 1970 – World Champion
• 1974 – Runner up
• 1978 – World Champion
• 1982 – Third place
• 1986 – Third place
• 1990 – World Champion
As Federal Republic of Yugoslavia
• 1994 – Did not participate due to the UN sanctions
• 1998 – World Champion
• 2002 – World Champion
• 2006 – Wild card qualification
Yugoslavia as a world champion is indeed a reality, because of their hard work, perseverance and determination they were able to go home with their heads up and victorious. Every country has their own time to win and lucky for Yugoslavia for they were able to become a World Champion.
Return from Yugoslavia as a World Champion to Yugoslavian Basketball
Return from Yugoslavia as a World Champion to Best Basketball Tips