Here are some tips for coaching basketball…
Walking into your first job as a head coach is daunting task. A lot of people firmly believe they can coach and produce a winner, however in actuality the number of great coaches are few and far between.
Winning at any level in basketball requires time, patience, discipline, attention to detail, and an outstanding gameplan among many other qualities.
Coach's personalities and strategies are often as different as the sun and the moon; however there are some similar characteristics that every commanding coach utilizes.
Tips for Coaching Basketball: The Mission
It may sound like a dumb question, but what is your motive for coaching basketball? Do you want to win? Do you want to help mold young men or women both in the classroom and in the gym? Are you looking to just coach for fun in a recreational league?Every great coach has a specific mission when they arrive at a new program.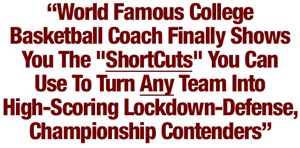 Yes, you want to create a winner but you also want to do it your way. If you are walking into a program that has seen relatively little or no success over the past few years, the question ultimately becomes – How can I change the culture? However, some coaches are fortunate enough to already walk into a winning program and then the mission simply becomes the way in which you, the coach, can carry on tradition.
Most coaches receive a job because the old coach wasn't getting it done and it's time for something new. Your job, or should we say mission, is to transform this perennial loser into a winner. But how do you do it? How do you build up the excitement and get kids interested again? What tactics or drills can you use to help improve your current roster? What can you do to bring new players and more talent into the program?
Tips for Coaching Basketball: The Gameplan
Every coach needs a gameplan. If you really expect yours players to embrace your philosophy, you must know exactly what you want to do. Are you going to focus on hard-nosed defense or are you going to think offensive first? Will you push the ball or play to the shot clock? Zone or man-to-man defense? Do you like a team of speedy guards or big bruisers?
Most importantly…will you adjust your gameplan to the players you currently have on the team, or will you stick with your original gameplan at all costs?
All of these are important questions and none of them are more right than the other. Essentially you need to find a way in which you can A) first make your team competitive and B) mold them into a winner.
Tips for Coaching Basketball: Discipline
John Madden may have been a great coach, however few of his colleagues will agree with his quote: "the fewer rules a coach has, the fewer rules there are for players to break." Coaches must be disciplined, because nothing screams out "amateur" like a coach who does not have control of his or her team.
State your rules early and stick to them, regardless of whether the star player breaks the rule or the 12th person on the bench is the culprit. Make sure that the players both understand and know that you are the boss.
What you say goes. One of the most important things you need to get across with your players is that they must listen to fully when you are talking. That means no balls bouncing or side chatter. Last but not least, punish players and the team when they break the rules but always make sure the punishment fits the crime.
Tips for Coaching Basketball: Communication
Always maintain an active communication line between the coach and player (and vice versa). You need to educate, train, motivate, encourage, and discipline your players when the situation warrants it. Allow them to vent their frustration back to you at the appropriate times. Listen to what they have to say and suggest, but always make the final call.
Just like in life, the honorable qualities of loyalty, honesty, sacrifice, and fairness will go a long ways toward earning their respect and full attention. As the present University of Utah men's basketball coach Jim Boylen once said, "take an interest in not only basketball, but also their personal life, and they'll go through a wall for you."
Return from Tips for Coaching Basketball to Basketball Coaching
Return from Tips for Coaching Basketball to Best Basketball Tips