The Spalding basketball and the NBA go hand in hand. Spalding is the most recognized name in sports equipment. Founded in 1876 by Albert Spalding specializing in rubber balls.
Spalding manufactured their first basketball 1894. A Division of Russell Corporation, the Spalding Group consists of two business units; Spalding in Springfield, MA and American Athletic, Inc. (AAI) in Jefferson, IA.
The two companies, collectively combined, are now the largest basketball equipment supplier in the world. Spalding is the official basketball of the National Basketball Association (NBA) and Women's National Basketball Association (WNBA), the official backboard of the NBA and NCAA, the official volleyball of the King of the Beach Volleyball Tour and the official football of the Arena Football League (AFL) and Pop Warner.
In addition to being the leading producer and marketer of basketballs, footballs, volleyballs and soccer balls, Springfield, MA-based Spalding produces softballs under the Dudley. Spalding also introduced a new basketball with "infusion technology" that allows a players to adjust the air pressure in the ball. The ball was built with a small micro pump in the valve.
Besides basketball Spalding manufactures and array of other basketball equipment.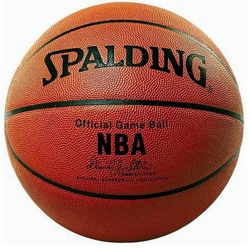 Portable systems, rims, basketball backboards, outdoor basketball pole systems, basketball training products, basketball accessories, basketball balls and basketball protective wall padding. Spalding offers over 100 different styles of basketballs, 62 for sale at the NBA store. Basketballs with team colors, team logos, neon paint, multicolored, leather, rubber, player's names, player's jersey with number all manufactured to the four sizes, youth, junior, women's, and men's and sizes.
The other basketball equipment that Spalding offers has the same quality and prestige as their basketballs. The Spalding basketball hoop is the next most popular item in the Spalding catalog. No matter your skill level or needs, you are very likely to find a Spalding basketball hoop that meets your needs.
If you are looking for a cheap in ground hoop that you kids can toss around on, there are a few great hoops to choose from. If you are looking to install a high priced, professional grade basketball hoop, Spalding also offers high quality poles and backboards.
They also offer one of the only portable residential hoops with a glass backboard as a standard feature. Spalding also manufacturers training aids such as the Bounceback, Rebounder, shooting rim and rebounding rim. There is a long list of basketball accessories made by Spalding. From nets, ball bags, scorer's table and basketball racks.
If there is a basketball game anywhere in the world there is a Spalding product there. Spalding has been in China for 11 years, and it has become its biggest market behind the US. Its market share grows 3-12% annually and its revenues rise 20-25% per year. "Basketballs sold better than other equipment at the 20,000 Spalding outlets around the country", said Thomas Lee, vice managing director of Spalding's China agent, Starlike International Ltd. Shanghai.
Spalding has more than 2,000 branded products, such Spalding basketballs and has licensed over 40 product categories such as basketballs, golf balls, baseballs, volleyballs, tennis rackets, soccer balls, golf clubs, and a complete line of sporting goods and apparel. Spalding's major competitors are Rawlings and Wilson. Spalding basketball equipment is the most recognized company in the world. Spalding is basketball.
Return from Spalding Basketball to Other Basketball Articles