The NBA trophy for the champion of the world has been handed out to participants since 1947.
Each year, NBA franchises battle through a rigorous 82 game schedule for nearly half the calendar year. After the regular season comes to a halt, the 8 best teams (by record) in each conference square off against each other with the eventual winners from each conference meeting in the NBA Finals.
The home and away format of 2-2-1-1-1 lasted until 1985. The 2-2-1-1-1 format meant that the team with the better record season record hosted the first two games of the series. The next two were played on the road.
If a game five was necessary, the teams would return to the home team with the better record. Game six and seven (if necessary) went back on the road and culminated with game seven at home.
The 2-2-1-1-1 format allowed the better team according to regular season record to host the first two games which are both very important, as well as game seven should the series stretch on that long.
After 1985, the NBA adopted a 2-3-2 format for the NBA Finals. The team with the better regular season record hosts games one, two, six (if necessary), and seven (if necessary). All other playoff series besides the NBA Finals still use the old 2-2-1-1-1 format.
The trophy for the world champions was named the Brown Trophy until 1978. Between 1978-1983, the Walter A. Brown Trophy took over, and finally in 1984 the Larry O'Brien Championship Trophy became known as what is still viewed today as the NBA Finals Trophy.
The Eastern Conference holds a slight advantage over the Western Conference when it comes to NBA titles won. The current record stands at 35-26.
Here's a list of NBA Champions and the opponents they faced in the series…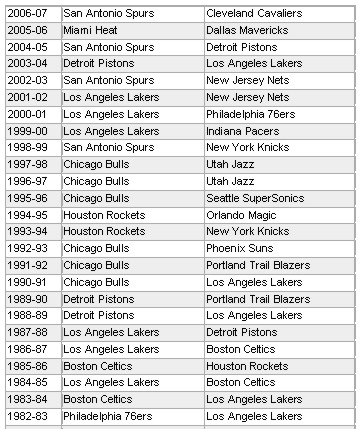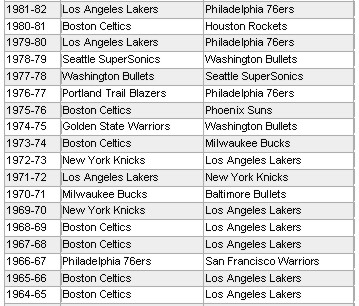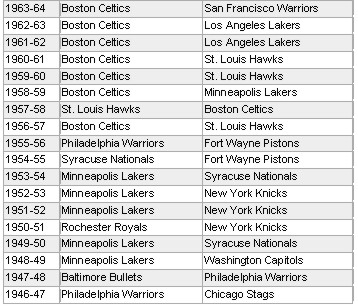 At the end of every season, the NBA hands out various individual NBA trophies. Here's a list of them…