The game of basketball has most certainly evolved from when Dr. James Naismith created the original 13 rules of basketball.
Today the NBA is one of the more popular professional leagues in the world, and home to the greatest basketball players ever to play the game.
Here's a rundown of the NBA Finals winners and losers throughout NBA history.
NBA Finals Winners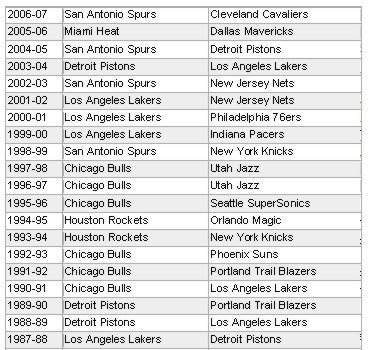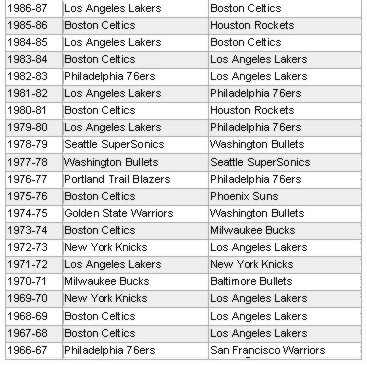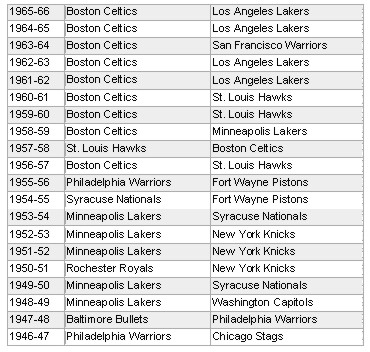 Any great team couldn't do it without a coach. Just ask Bill Russell, who at one point in his career served as coach while still playing on the team.
Here's a list of the all-time winningest NBA coaches, with names in BOLD still active.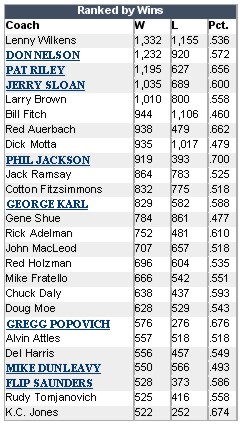 But even a great coach can't win without talent. Here's a list of NBA regular season MVP winners, starting with most recent.
Maurice Podoloff Trophy
2006-07 – Dirk Nowitzki, Dallas
2005-06 – Steve Nash, Phoenix
2004-05 – Steve Nash, Phoenix
2003-04 – Kevin Garnett, Minnesota
2002-03 – Tim Duncan, San Antonio
2001-02 – Tim Duncan, San Antonio
2000-01 – Allen Iverson, Philadelphia
1999-00 – Shaquille O'Neal, Los Angeles Lakers
1998-99 – Karl Malone, Utah
1997-98 – Michael Jordan, Chicago
1996-97 – Karl Malone, Utah
1995-96 – Michael Jordan, Chicago
1994-95 – David Robinson, San Antonio
1993-94 – Hakeem Olajuwon, Houston
1992-93 – Charles Barkley, Phoenix
1991-92 – Michael Jordan, Chicago
1990-91 – Michael Jordan, Chicago
1989-90 – Magic Johnson, Los Angeles Lakers
1988-89 – Magic Johnson, Los Angeles Lakers
1987-88 – Michael Jordan, Chicago
1986-87 – Magic Johnson, Los Angeles Lakers
1985-86 – Larry Bird, Boston
1984-85 – Larry Bird, Boston
1983-84 – Larry Bird, Boston
1982-83 – Moses Malone, Philadelphia
1981-82 – Moses Malone, Houston
1980-81 – Julius Erving, Philadelphia
1979-80 – Kareem Abdul-Jabbar, Los Angeles
1978-79 – Moses Malone, Houston
1977-78 – Bill Walton, Portland
1976-77 – Kareem Abdul-Jabbar, Los Angeles
1975-76 – Kareem Abdul-Jabbar, Los Angeles
1974-75 – Bob McAdoo, Buffalo
1973-74 – Kareem Abdul-Jabbar, Milwaukee
1972-73 – Dave Cowens, Boston
1971-72 – Kareem Abdul-Jabbar, Milwaukee
1970-71 – Kareem Abdul-Jabbar, Milwaukee
1969-70 – Willis Reed, New York
1968-69 – Wes Unseld, Baltimore
1967-68 – Wilt Chamberlain, Philadelphia
1966-67 – Wilt Chamberlain, Philadelphia
1965-66 – Wilt Chamberlain, Philadelphia
1964-65 – Bill Russell, Boston
1963-64 – Oscar Robertson, Cincinnati
1962-63 – Bill Russell, Boston
1961-62 – Bill Russell, Boston
1960-61 – Bill Russell, Boston
1959-60 – Wilt Chamberlain, Philadelphia
1958-59 – Bob Pettit, St. Louis
1957-58 – Bill Russell, Boston
1956-57 – Bob Cousy, Boston
1955-56 – Bob Pettit, St. Louis