The quintessential Larry Joe Bird hailing from that little village in Indiana who would single-handedly set the basketball world on its ear with his incredible performances on the basketball court night after night is the topic of the day.
Bird was born on 12/7/56 in West Baden,Indiana and would take to the game of basketball like a sparrow takes to a June-bug in the early-evening hours of an Indian summer in French Lick.
Built to Win
Bird is a basketball machine. Built from the ground up to not only play the game but to dominate it in a style that few see as being able to do just that. Standing a towering 6-9" and weighing 220 lbs. Bird would utilize every ounce of that to muscle his way in for rebounds and also to set picks for his scurrying teammates on the Celtics and previously the Sycamores of Indiana State.
Bird VS Magic
After graduating from Springs Valley High School in French Lick, Indiana Larry accepted an offer to attend the Indiana State University and took the team to the NCAA Championship Game against the heavily-favored Michigan State Spartans and Erving Johnson (Magic). The pivotal battles that started with this game would be some of the most-storied in all of the NBA.
Please see the list of notables and rewards as well as Larry Bird stats that are presented below and try to get a feel of what a true American legend is all about, Larry the Legend.
• Nickname: Larry Legend
• Honors: Elected to Naismith Memorial Basketball Hall of Fame
• NBA Champion (1981, '84, '86)
• NBA Finals MVP (1984, '86)
• NBA MVP (1984, '85, '86)
• Nine-time All-NBA First Team (1980-88)
• All-NBA Second Team (1990)
• All-Defensive Second Team (1982, '83, '84)
• NBA Rookie of the Year (1980)
• One of the 50 Greatest Players in NBA History
• (1996); Olympic Gold Medalist (1992)
Pistol Pete Analogy
To see this man as just a normal good professional basketball player would be to refer to a nuclear aircraft carrier as just another boat.

The times Larry spent playing basketball were definitely the ones that witnessed this player changing the entire philosophy of the way the game is played. Bird's style was methodical and crafty and as a thinking-athlete his mind was so lightning-quick he was said to be extremely hard to play for that reason alone!
The teammates of Bird would all point to his style-of –play as purely Bird like and unmatched by any other player besides maybe Pistol Pete Maravich a decade before Larry the Legend hit the parquet floors of the Garden.
Boston Celtics with Bird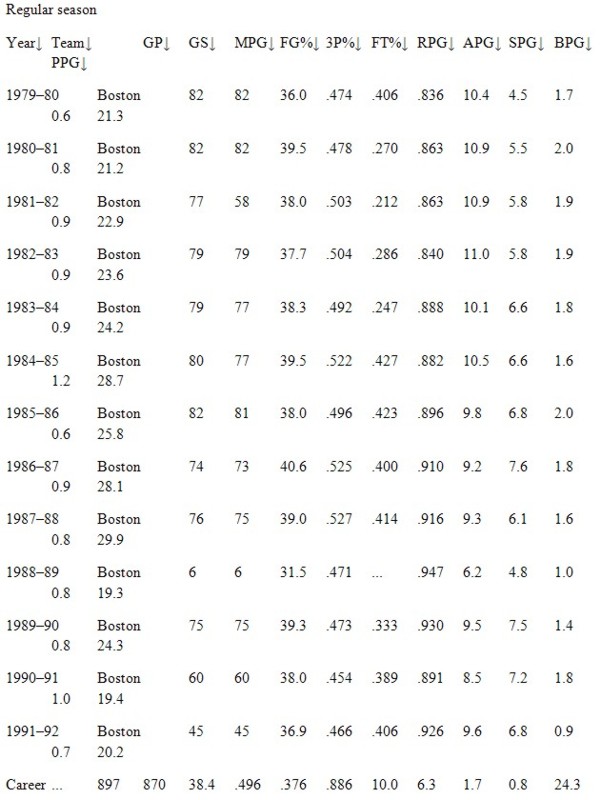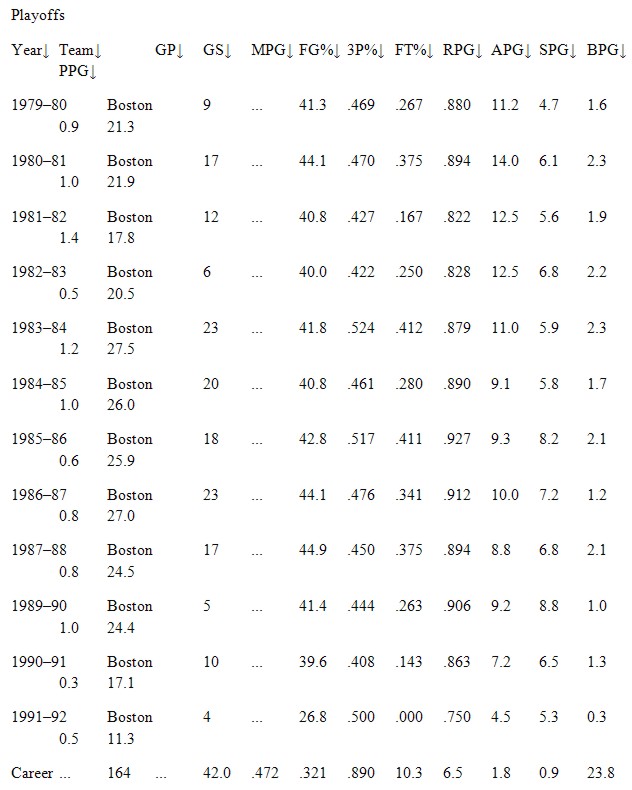 If you loved reading about Larry Bird statistics, make sure you read some more here…
Return from Larry Bird Statistics to NBA Legends