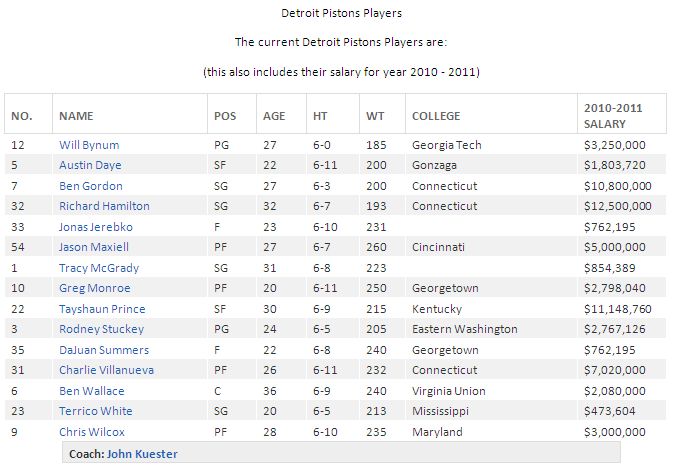 Now let us discuss some of the most famous Detroit Pistons Players
Dave Bing
David "Dave" Bing was born on November 24, 1943 in Washington D.C. His jersey number is #21. He was an All-Star seven times and was named as one of the National Basketball Associations 50 Greatest Player of all time. At the NBA All Star Game in 1990 he was given an award, Schick, for his great work after his NBA career.
Isiah Thomas
Isiah Lord Thomas III is currently a coach for the FIU Golden Panthers. He played as a point guard for the Pistons from 1981 until 1994. He belongs to the Bad Boys era, they became the champion in the 1988-89 and 1989-90 season. He was named one of the 50 Greatest Players in NBA history during its 50th anniversary. He ranked 5th in NBA history in his assists (9,061, 9.3 apg) and ranks 9th in steals (1,861). He was known for his dribbling ability.
Corliss Williamson
Corliss Mondari Williamson is born on December 4, 1973. He is the current coach for the University of Central Arkansan. He had a 12 year NBA career. He was nicknamed BIG NASTY which originally came from his cousin who bullies him. He was a small forward in the NBA. He first played for the Sacramento Kings. He was traded to the Detroit Pistons in season 2001-02 season and he was named the NBA Sixth Man of the year. His career together with the Pistons was short lived because on February 22, 2005 he was traded back to the Sacramento Kings.
Dennis Rodman
Dennis Keith Rodman was born on May 13, 1961 he became one of Detroit Pistons Players in 1986 joining the Bad Boys team of coach Chuck Daly. Rodman showed off his talent by providing 6.55 points, 4.7 rebound and tough defense in 15 minutes of playing. Rodman is known for his fierce defensive and rebounding abilities.
He was an NBA All-Defensive First Team honors seven times and was voted NBA Defensive Player of the Year twice. He is considered controversial because of the way he looked, he had many piercings, tattoos and artificial hair colors this is the way he reinvented himself from an unhappy childhood he had experienced. He also had an affair with a famous pop singer Madonna.
Will Bynum
Will Bynum was born on January 4, 1983 and plays as a point guard. He first signed a contract with Boston Celtics in the off season of 2005. He appeared for the Golden State Warriors during the 2006 season. He also played for the Roanoke Dazzle of the National Basketball Association Development League. He also won the Rookie of the year award.
In the 2008-09 season he joined the Detroit Pistons. He set a record for points in a quarter by an individual netting 26 in the 4th quarter of a winning effort. He was considered among one of the most famous Detroit Pistons Players because he became the first Pistons to record 20 assist in a game getting 20 in a 101-87 victory against the Washington Wizards. The Pistons record he break was his idol way back in his childhood, he is Isiah Thomas.
Return from Detroit Pistons Players to Detroit Pistons