Chinese basketball players does not have a very big name in NBA league, in fact only 5 players were able to play in the league.
Hopefully NBA would have an NBA branded league in China. Basketball is very popular among the Chinese particularly for men that is why plenty aspires to be a professional basketball player. China has a national basketball team too where the players represents China and compete to other countries.
Before we start talking about basketball stuffs let us take a brief preview of the country China and the people living there.
China
China is known because of its ancient civilization over a large are in East Asia. China is considered one of the world's oldest civilizations with an almost 4ooo years of continuous history. China is also known because of their advanced society and economy as early as the 19th century they were already starting businesses and leads travels for barter and trading purposes.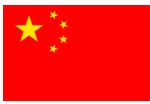 However the boost in economy slowly declined due to successive dynasties which made them miss the industrial revolution. The 19th and 20th century imperialism also caused a collapse in their economy. As of now China was is able to stand up again and their economy continues to grow not just in their country but in other countries as well.
Now let us discuss Chinese National Basketball team history
Chinese National Basketball Team History began when they joined FIBA in year 1974. Chinese National basketball team is the basketball team which represents the People's Republic of China in international Competitions. The team is in fact recognized as the strongest team in Asia up to the present. They had won numerous FIBA Asian Championships than any other countries have recorded.
They won 14 gold medals in the FIBA Asian Championships. They also have the most successful basketball program in Asia. The governing body of the Chinese Basketball operations is the basketball.
Chinese National Basketball team history truly became known because they were considered as the basketball power in Asia. Out of 16 FIBA Asian Championships they were able to go home victorious 14 times from year 1975 up to year 2005. In the 2007 FIBA Asian Championship they were not able to defend their title due to the automatic berth at the 2008 Summer Olympics being China as the host nation.

The B team of China participated in the FIBA Asian Championship and ranked 10th only while its primary A team was sent to participate at the 2007 Stankovic Cup. Before in the Chinese National Basketball Team history they had a hard time fighting against non-Asian teams but in the recent years China was able to prove that they can beat other countries aside from Asia as well. They beat top European teams in the Athens 2004 Olympics and were able to advance to the final eight and won over the defending world champion Serbia and Montenegro.
These is a proof that Chinese do excel to in basketball maybe it is not just their time in NBA but they already had proven their skills by owning the FIBA Asian Championship.
Return from Chinese National Basketball Team History to Best Basketball Tips