It is not concealed to people that basketball is really a popular sport. People are fond of playing as well as watching someone playing basketball.
Basketball is undeniably a fun game that is why plenty are getting addicted to it.
It is emphatically known not just in one country but in the world. As an evidence that basketball is a talk of the town sport let me introduce to you how Canadians deal with this popular sport.
Canadians would not allow themselves to be left behind in basketball. Canadians love basketball as much as other country love this sport, unfortunately there is no professional basketball league here in Canada so plenty plays professionally overseas.
Their eagerness to play basketball in a professional aspect is a proof that they too are very much into the sport basketball. In fact they have a team which represents their country in international competitions like Summer Olympics game…it is called Canada National Men's basketball team.

The players are being carefully chosen by Canada Basketball and the current head coach is Leo Rautins, assistant coaches were Wayne Yearwood, Renato Pasquali, Jim Todd and their players are: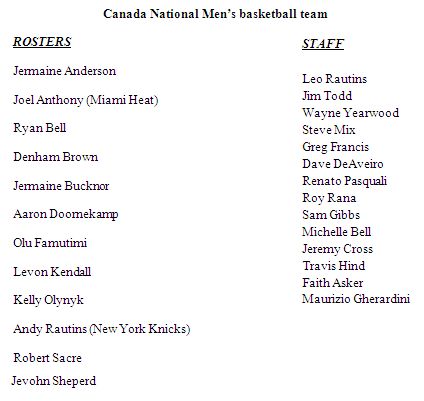 This team is supported by Canada basketball, it is non-profitable organization that provides the men and women team financial and other support that could help the players become more skillful and focused. The Association is also the one who is tasked to choose the players that would represent the country.Amongst the players that did big in the field of basketball were:
1. Steve Nash – Phoenix Suns
2. Jamaal Magloire – Miami Heat
3. Matt Bonner – San Antonio Spurs
4. Samuel Dalembert – Sacramento Kings

** Canadians even blame the absence of the 4 mentioned for the loss of the team in the 2010 FIBA World ChampionshipCanada men's national basketball team is a member of FIBA (International Basketball Federation) and ranked 23rd. Though they haven't won any medal in the FIBA World Championship they still can't be called losers for they managed to win in Americas championship games. Some of their achievement in FIBA Americas Championship are as follows:
2 Silver medal in year1980
3 Bronze medal in year 1984
3 Bronze medal in year 1988
2 Silver medal in year 1999
3 Bronze medal in year 2001
Canadian men's national basketball team also won silver medal once in the Olympics held in Berlin in year 1936. After that they weren't able to brag any medal but for sure they are practicing and striving so hard to win another medal and this time it would be the gold medal.
Return from Canada National Men's Basketball Team to Canadian Basketball
Return from Canada National Men's Basketball Team to Best Basketball Tips